What is Fintech ?
Fintech stands for financial industry technology which means a company uses the internet, mobile devices, software technology, or cloud services to perform or connect to financial services.
In addition to the usual services such as payment, lending, money transfer, … Fintech offers broader services such as crowd-funding, peer to peer lending, personal finance insurance technology (Insur-Tech), digital currency (Crypto Blockchain), data management, etc… with the aim of improving the financial apparatus and creating more value for businesses in the financial sector.
Fintech is fastly becoming one of the most promising and ambitious industries in the world. More and more people are tapping into fintech applications to use the benefits and advantages that this sector has to offer.
To meet the sector's growing demand, fintech startups and industry leaders are choosing to delegate some tasks to outsourcing companies.
This type of partnership is an effective solution for financial services providers to maintain everyday operations and fulfill their critical, value-adding workloads.
How can outsourcing help fintech companies in the industry?
Utilizing emerging technologies is at the core of every FinTech business. Therefore, Fintech outsourcing is a strategy used by companies that hire third-party service providers to effectively maintain their everyday operations. In addition, it reduces the workload of the internal team, this approach is considered cost-effective for startups and small businesses.
These IT outsourcing services include:
App development services
FinTech software maintenance
App support or management
Tech support
Web development
Data management services
What are the most important criterion when choosing a trusted offshore outsourcing software development company ?
The choice of the service provider can make or break your outsourcing strategy. If you work with the wrong partner, everything can go wrong, and your company would suffer all the negative effects of the potential risks. But with the right partner, a FinTech company can maximize the benefits of outsourcing, and boost their growth immensely and quickly, and at an inexpensive cost.
When looking for a fintech software development company, it's a good idea to consider many aspects of that business to make a choice that truly fits your business needs.
1. Professionals staffs
The first and most important thing of a company providing software development services is to ensure the quality of its technical staff. Outsourcing is all about expanding the company's workforce. So, you need a company that provides extensive training to their staff, and regularly monitors and improves their performance. They must be certified to be able to provide the fintech company with a quality product, well versed in all aspects of the software development that your business is aiming for. They also need to master the knowledge of programming languages to write clearly, precisely and make no silly errors. The standard programming languages used for development in fintech solutions are commonly C++, Java, C#, Python, Ruby, and Scala.
Along with that, the outsourcing software development company must have an expert team in the industry. They can offer you solutions for the product, or they can advise you on the best way to offload extraneous features to avoid money waste.
In addition, it must be ensured that the company is always up-to-date with the latest Fintech technology trends in AI, ML, Big Data, etc… to be able to deliver products with vast breakthrough features. Last but not least, the leaderboard knows how to properly allocate the development team by expertise to complete your project on time and efficiently.
2. Length of experience
Just like in hiring an employee, the years of experience also matter in hiring a service provider. Companies with lengthy industry experience know how to handle a wide array of challenges. They have developed techniques to improve their quality of work, too. You should take a deep look at their experience, achievement and portfolio of solutions they can bring to the table. However just looking at the general experience is sometimes not enough. The fintech company needs to find a software development company that has relevant experience to the project the company is working on. Or have experience working with customers in the fintech industry if you want them to create the best products for your
3. Information security
Cybersecurity always remains a hot topic in the technology sector globally. And when developing a fintech solution, security is a top concern, as a small mistake can have a big impact on the whole business. Therefore, the fintech company and its partners must be aware of how to solve the problem of information security related to the project.
In addition, the platform used to store the company's data is also important. Must ensure that your business's data is really safe with multi-layer security, full-time protection combined with comprehensive security of data in / out on the system when communicating with the outside. Checking for an ISO certification is an effective way of ensuring that your information is safe with the outsourcing software development company
Check out this article: TPS obtains the ISO/IEC 27001:2013
4. Company's capacity
This is an important factor in choosing a fintech software development business for your company. It helps you make judgment easier whether they are really the right fit to provide the technology solution your company is looking for.
For those who have been developing fintech software for a long time, they will bring products with more stable properties. In addition, they also have a lot of experience serving many customers in this market and the ability to handle common problems. This more or less helps you to save your budget.
5. Professional working model
The thing to pay attention to when fintech companies want to find their own fintech software outsourcing company is the partner's working model. For the project to be successful, the information between the parties involved in the development process must be transparent to each other. From there, people in different roles have enough information to do their jobs well.
In addition, product quality checks must be carried out regularly, in order to detect errors and correct them in time. Bringing high efficiency to the owner and the best product to the user. Agile method and Scrum process is the trend of working at software development companies in Vietnam that can ensure a transparent working model and easily control product quality.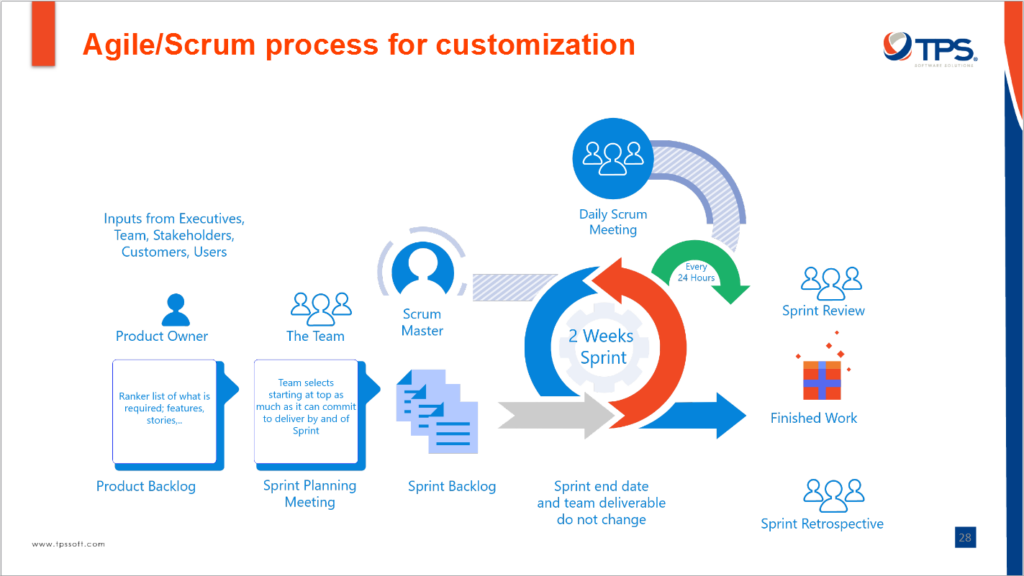 6. Risk management plan
7. Soft skills
TPS Software is your trusted Fintech Outsourcing partner