Read it before outsourcing your software development
With the significant development of technology and the imperative demand for digital transformation in the 4.0 Industry, software outsourcing is becoming an effective strategy for businesses to accelerate and stay ahead of the curve. In recent years, it has boomed as a global trend. This article gives general understandings you need to know before outsourcing your software development projects. Not only will you get insights about the different models of outsourcing, but also tips to have your software outsourced effectively and successfully.
Table of contents:
What is software outsourcing?
What are software outsourcing models?
Why should businesses adopt software outsourcing?
What to consider when hiring a software outsourcing team?
How to outsource software development effectively?
1. What is Software Outsourcing?
Software Outsourcing is the practice that a company delegates a software project to an external enterprise that has resources, talents, capabilities, and time to handle the required business needs.
Evolving at lightning speed, technology is hastening the process of software development. A new invention can be obsolete in such a moment. Thus, companies are shifting their strategy towards software outsourcing to accelerate and gain competitive advantages in the industry.
According to a recent report by Statista, in the year 2019, the global IT outsourcing market size amounted to USD 66.52 billion, and it was predicted to grow by USD 98 billion during the forecast period of 2020-2024 according to the report "IT Outsourcing Market by Service, End-user, and Geography – Forecast and Analysis 2020-2024" by Technavio. Demand for software outsourcing is rapidly growing and will soon become a global trend for the digital transformation wave.
2. What are software outsourcing models? 
a. Fixed price contract model
This model allows the budget to be fixed before the beginning of the project, which alleviates real-time unexpected financial trouble. Clients are billed on pre-defined milestones. This model is ideal for one-off projects where the scope is defined internally. Also, SMEs and startups are recommended for this model as it ensures the project accomplishment within budget
Advantages: Fixed-price is not just a pricing model in custom software development, it predefined project processes and responsibilities of all involved parties. The constraints of the Project Management Triangle including scope, time, and cost are all fixed.
Disadvantages: The main problem of a fixed software development price is that there is almost no flexibility for the Client. Flexibility becomes a necessity in midsized and large projects, which are under constantly changing business and technology conditions.
b. Staff Augmentation 
Staff augmentation is the use of outside specialists temporarily to augment the capacity of a company. This model allows businesses to have management on resources like an internal team. Clients can hire suitable personnel to align with the specific requirements, such as the number of developers along with their skill set and experience to fill gaps on projects in compliance with the current business objectives.
Advantages: This outsourcing model is considered to be ideal when the internal team of the client is in the shortage of advanced experts for a specific project. This practice allows the client to quickly recruit high-quality developers to fill the skill gap. Also, the client is capable of scaling up or down flexibly in the business needs. It is appropriate for both long-term and short-term engagement
Disadvantages: The major disadvantage of this method is the company will have to spend significant time onboard, direct, and manage the outsourced professionals. Also, the client may deal with difficulties in communication due to the different time zone and cultural -understanding.
c. Offshore development center model (Dedicated development team)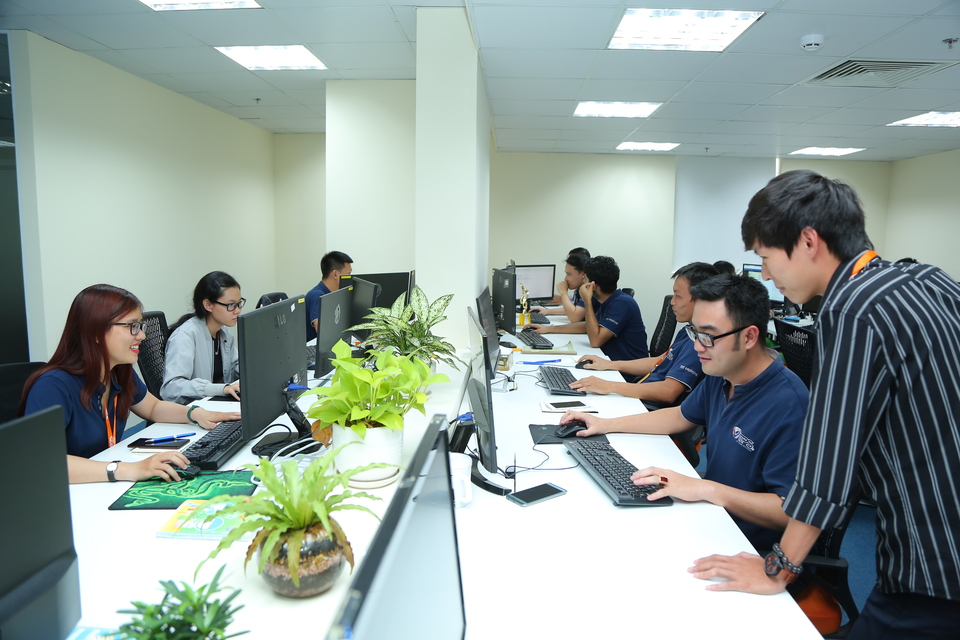 Dedicated development team
The offshore development center is an office dedicated to fulfilling the software requirements of a company. In this model, enterprises don't usually have an internal IT department and use dedicated development centers to outsource the entire IT processes on the client's premises. In other words, the offshore development center works as an extension of the client's software team
For more insight about the offshore dedicated team, read the article: How to choose the best offshore development center for your business? 
Advantages: The offshore development center will be responsible for a wide range of tasks, both managerial and technical, including analytic and system design, updating software, writing new code, and so on. So, the client organization doesn't have to worry about any aspect of the development process. The IT outsourcing partner will share all responsibility for the product development cycle, free businesses from intensive management compare to the staff augmentation model
Disadvantages: With an offshore development center, companies usually commit long-term partnerships and share the majority of information including confidential and internal sensitive data, which risks companies of data leakages. Therefore, this model requires an effort to select an adequately trusted partner.
To get more insights about software outsourcing models and learn how to choose the best model for your business, explore the article: How to choose the best outsourcing model for your business
3.  Why should businesses adopt Software Outsourcing?
a.Reduce software development costs and operating expenses
According to Deloitte's 2016 Global Outsourcing Survey, the top motivation for enterprises to outsource is cost-cutting.
In fact, the average hourly rate for hiring a senior software developer in the US is $100 – $170, a developer with similar experience and technical skills can be hired for $40 in Asia, according to The Scalers. Also, by delegating to a software outsourcing team, companies can diminish their labor-management costs, including recruitment costs, insurance, training, leaves, etc.
Besides, the cost of equipment and other supplies is also a significant saving for companies to take software outsourcing into consideration.
b. Flexibility
Software outsourcing allows businesses to have a flexible workforce. Instead of sustaining long term employment and getting to pay full-time in-house programmers all year round, companies can hire an outsourcing company and access qualified developers for the project only when needed. This benefits businesses in the flexibility of the labor force especially when it comes to a low season when the project gets done or the company has to work on a spare budget.
c. Improve Business with a Focused Strategy
By working with a software development outsourcing team, a business can free up energies to focus more on the core business idea and activities such as brand building and research and development to provide value-driven services to its customers.
The available access to well-versed IT talents on a large scale allows clients to implement their projects efficiently while having more time to focus on their core competencies and business solution to gain competitiveness in the market.
Moreover, to customer companies that are not in the IT industry, the software outsourcing team offers significant benefits as it offers companies expert consultations and an approach to most cutting-edge technology to be innovative and ahead of the curve.
d. Acceleration
The available assessment to a pool of IT talents who are already experienced and well-versed in technologies allows a business to accelerate implementing the project without wasting time on training, onboarding, or researching. A software outsourcing company can enhance productivity without compromising quality.
4. What to consider when hiring a software outsourcing team?
a. Security risks: 
Maintaining privacy becomes a troubleshooting experience for enterprises because nowadays, data becomes a new asset. Handing over business data to a 3rd party software outsourcing team could risk businesses to encounter data leaks, especially leakage of confidential and sensitive information, which alerts a concerning matter.
Therefore, security should be taken into high consideration when businesses plan to outsource a software project. Select a prestigious partner who has insights in information security and all necessary measures to ensure the protection of their customers' data. Compliance with data security should also be well discussed.
ISO 27001 is a certificate for information security management systems. Businesses can shortlist partners with the certificate to prevent the possibility of data leakage risks.
For further insights on ISMS, let's explore the article: Cybersecurity in software outsourcing
b. Quality disappointment
Cost-saving could be a trap since it compromises the quality. Cutting costs is a significant advantage of encouraging businesses to adopt this practice, selecting a cheap quote vendor could lead the business to quality disappointment though.
For more insights cost of software outsourcing, read the article: Software Development Outsourcing Cost Guideline
Besides, delegating personnel management to a software vendor makes it a challenge for companies to have full visibility into the process as well as to address the problems, to provide feedback and guidance to move the project forward.
An affordable quote may be appealing but time and quality are much more important, especially to technology products. Thus let's take quality as the first priority, a high-quality team can save businesses even more costs, time, and effort.
c. Communication Challenges 
Working with an IT team in a remote location leads businesses to confront differences in location, time, language, and culture, which creates challenges in miscommunication.
Apparently, language discrepancy introduces hardship in keeping businesses and outsource technical teams on the same page when conveying a message. Misunderstanding ends up wasting time, effort, and ultimately drives to frustration and poor performance for both teams
Time-zone differences where there is limited workday overlap can also lead to a breakdown in communication, challenging the project progress updates due to lack of visibility, disruption, and connection. Missing deadlines, re-work, and failure is possibly un-expected outcomes.
Nowadays, technology and globalization have eased the hardship in communication. The capability of fluent English comprehension is becoming prevalent amongst countries. Also, virtual meeting platforms such as Zoom, Skype, Google Hangout, etc.. has facilitated the persistence of interaction. Therefore, establishing frequent online meetings scheduled between clients and the remote team is highly recommended to keep the progress transparent, and businesses can provide feedback in time during each stage to move projects forward.
5. How to outsource software development effectively?
a. Choice: Select a trusted partner to accompany the software development
The quality of software development greatly depends on the quality of the software outsourcing service provider. A high-quality technology vendor can boost productivity and drive positive growth to businesses. Thorough research and a good selection in advance streamline the entire development process.
How to choose a trusted software outsourcing vendor? The below checklist can give some clues:
Software provider's credentials and certificates: Technology partners' background is crucial for the evaluation. Research for their businesses' experience and expansion. Certificates and awards can indicate prestigious vendors, especially the ISMS certificate should be a must to ensure your business data privacy.
References in your industry: Partnering up with a vendor who has experience in your industry may ensure the development process will be streamlined
Level of customization and scalability a software solution offers: As companies expand their software should be able to scale accordingly. The ability to scale up the system is a sustainable selection
b. Goals: Create key performance indicators (KPIs)
Concentrate on what you want to achieve with your software development team. Adding transparency with your requirement and goal setting up front enhances team engagement and working performance.
Setting goals by creating specific KPIs allows both parties to be aware of what needs to transpire to make the software implementation a success. KPIs also enable your company to be kept posted on the development's progress and ensure your software project to be accomplished in expectation.
Transparent goals ensure mutual understandings that lead to an effective and long-lasting partnership
c. Communication: Establishing a proper communicating schedule
Communication is the key to understanding the problems to tackle and coming up with the right solution. So, establishing a proper communication schedule is imperative to ensure your business and technical team are on the same page. Regular meetings, reports, instant messengers, phone calls, video conferences will erase communication difficulties and straighten the cooperation process, which enables the entire development process to be streamlined and successful at last.
d. Commitment and Trust
Your commitment poses such tangible effects on the final product. Hence, remaining involved in project development is crucial. However, it does not mean putting over control and excess management on your development team. Concentrate on what you may contribute to enhance the quality of the project development, not go by details in the development process. Allow your outsourcing partner to implement their way of working. Trust that they are the ones who want what's best for your business. Proper trust and collaboration bring fruitful outcomes and establish a sustainable corporation.
It now becomes a software outsourcing trend that the relationship between the company and the outsourcing provider is shifting toward a collaborating partnership.
e. Contract: Compose an appropriate business agreement
The appropriate business agreement can be crucial to the success of outsourcing your software development. The contract demonstrates all agreement during the negotiations, specify the scope of the project, and focus on business outcomes that both sides want to achieve.
Also, put a clear declaration on the cost sheet to make sure there is no extra fee or hidden free aftermath. The transparency in finance contributes to a trustworthy long-term partner-ship.
————————————————————————————————————-
To decide a trusted software outsourcing partner for a technical project is crucial and arduous. We hope our sharing on software outsourcing above may help you gain an overview of the industry and assist you to find a trusted partner to accompany you on your innovation journey.
On the occasion that you are looking for a good vendor in technology, TPS Software may be what you are looking for.
TPS is located in Vietnam, top 5 Outsourcing Location in 2019, according to the A.T. Kearney Report, which acclaims the competencies of the country in software outsourcing and leads Vietnam to various opportunities for diverse projects of software development.
TPS is led by a top management team with 20 years of experience in this industry and owns an in-house R&D team. This allows the company to be able to offer the most appropriate solutions with the good concern of the latest technology in the market to our partners.
Trust is always our first priority, have your digital project outsourced with TPS to gain the commitment for your successful software project.