On April 24, Sao Khue Awards 2021 was organized by Vietnam Softwar
e and IT Services Association (VINASA) at Performance Art Theatre, Hanoi City.
Sao Khue Award 2021 attracted a record number of nearly 300 nominations from 161 businesses, increasing by 57.8% compared to 2020. The year have become the leading year of the number of nominees up to now.
This year, TPS Software has been recognized the winner of the prestigious Sao Khue Awards in 2021 for two excellence categories: IT Outsourcing Service and New Software Products, Solutions.
The achievement has timely recognized the quality of products and services introduced by TPS Software, to provide customers and partners the best technology solutions and help clients to improve accuracy, speed and boost productivity in IT Services.
Being honored at Sao Khue 2021 also means that TPS Software has fully and comprehensively met the stringent evaluation criteria, from the originality, creativity of products, effectiveness of technology deployment, to preeminent business strategy model and corporate social responsibility.
TPS Software are uniformly focusing on software solutions tailored as per the clients' unique requirements for long-terms. The combination of our expertise in latest technology and many years of experience, empower us to successfully adapt to our various needs and makes TPS as the great choice for offshore outsourcing company.
This helps TPS Software to gain Sao Khue Award for the category of "IT Outsourcing Service". TPS has adopted the high model standards of operational experience and service quality, empowering its customers over a wide range of industries to transform into digital enterprises
TPS Software acquired ISO 27001:2013 and commit all the requirement of Information Security Management System standard in software development process.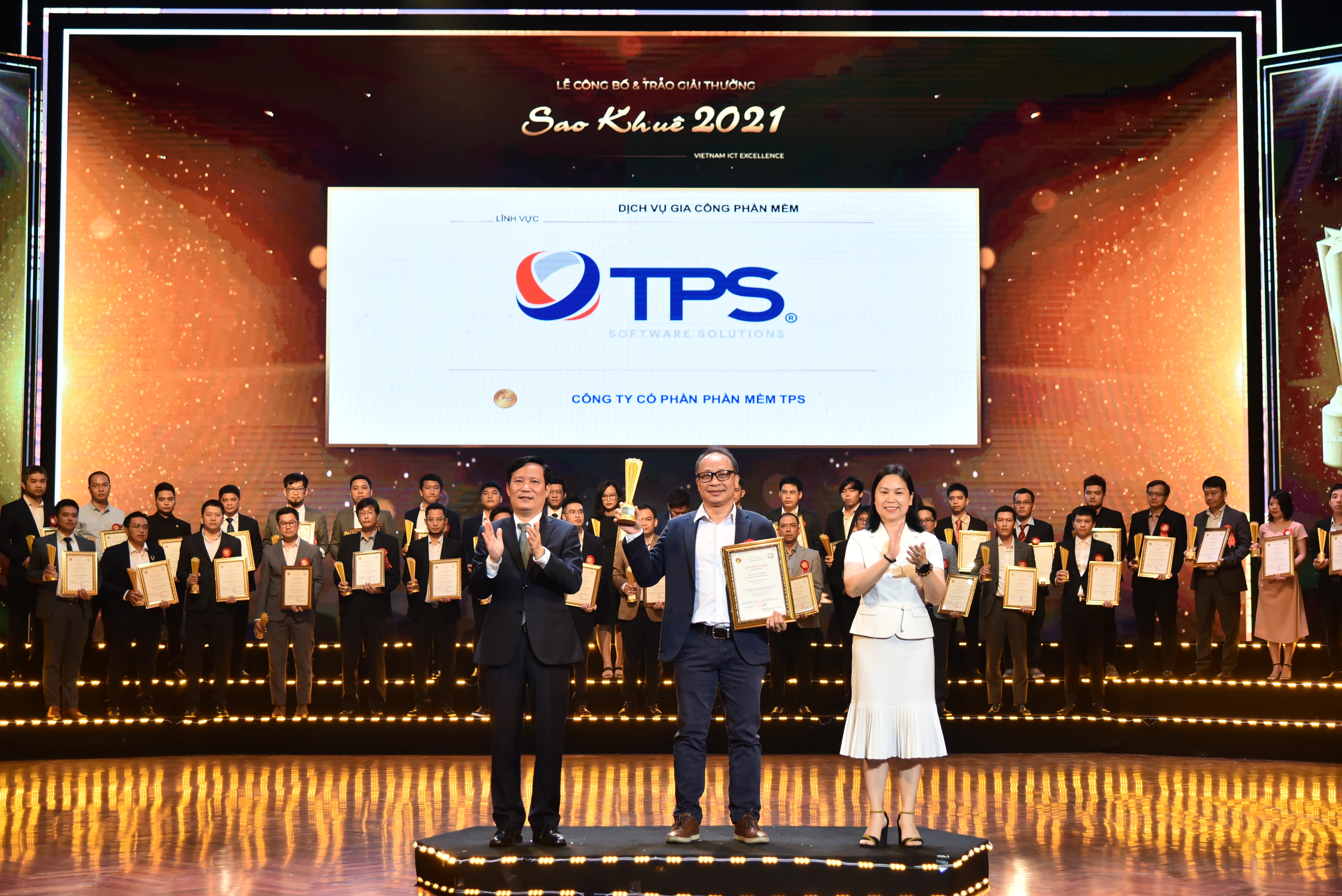 Mr. Ngo Phuong – CEO of TPS Software attended the ceremony and directly received this honorable title.
Moreover, TPS Software has been named the second Sao Khue Award 2021 for the category "New Software Products, Solutions" – JOYID® – Joy Up Identification.
JOYID is an Artificial Intelligence solution for identification , developed by TPS Software Corp. This product is developed with innovative Artificial intelligence technology including Deep Learning, Facial Biometrics, and Anti Spoofing. JOYID was trained with a large dataset of over 6 million Vietnamese ID documents and faces to classify documents and faces with pinpoint precision. Taking advantage of all available features of a human face (Age, Skin texture, Iris, Gender…), the Facial-biometrics of JOYID is capable of making the most accurate biometric prediction. Certified passive anti-spoofing procedure at 99.98% validated acceptance rate for over 2 million of extreme test cases (Face mask, video playback, Printed papers, digital images…) for both Face and ID Documents allows JOYID to detect spoofing with high accuracy.
To accomplish authentication tasks, JOYID performs features:
Identity document verification: JOYID can determine whether the ID document (National ID, Passport, Driver license) is authentic or manipulated
Fraud Detection: JOYID can detect manipulated ID by blur and glare detection, expired ID, and spoofing
Character recognition: OCR (Optical Character recognition) applied in JOYID allows it to extract and digitalize information form ID with 98% accuracy
Liveness detection: JOYID can determine in 2 seconds whether the user's selfie is alive human or a fake representation from the photo, video, or spoofing
Facial comparison: JOYID can determine whether the selfie photo that has been taken matches the photo on the ID in a 10-year discrepancy
JOYID® can be flexibly applied in a variety of industries such as Finance and banking, Health Care, Insurance, Hospitality, Transportation, Telecommunication…
For more information about the technology, features and application of JOYID, click here
The Representative of TPS Software, Mr. Le Quang Minh Anh – Product Manager received the Sao Khue Award for JOYID – Joy Up Identification
About the Sao Khue Awards
Sao Khue Award is organized annually by The Viet Nam Association for Software and IT Services (VINASA) since 2003. This is the most prestigious award of the Vietnamese software and IT service industry, aiming at honoring businesses, organizations, and individuals with excellent achievements in this industry.
Sao Khue Awards 2021 has 6 categories:
1. Digital products and solutions for 21 specific fields
2. Digital transformation platforms for all fields
3. Novel technological solutions for all fiends, using renowned cutting edge technologies like AI, IoT, Big Data, Cloud, Block Chain, Robotic Process Automation (RPA), Virtual Reality (VR), Augmented Reality (AR), Extended Reality (XR), 3D Printing
4. Digital startup products and solutions that are commercialized in less than 3 years
5. Novel technological products and solutions formally released in the market no later than 12 months on the award registration date and receiving revenues
6. IT services divided into 9 specific fields
About TPS Software
Established in 2016, TPS Software is a diverse software development company located in HCMC, Vietnam. Orienting to long-term partnerships, TPS takes Trust and Innovation as the top priority to deliver top quality products and services to our customers. In 5 years since establishment, as an energetic entrepreneur, we have worked dedicatedly to accumulate inspiring achievements.
TPS offers excellent services with inventive technology including:
Custom Software Development
Software Maintenance & Support
Technology and Solution Consulting
Cloud Migration and DevOps
Stay connected with TPS Software: