Since digital transformation is becoming a hot topic for businesses in this industry 4.0, many people are talking about it, but not many understand the appropriate meaning of the words.
So what is digital transformation and its advantages that businesses should adopt right away?!
What is digital transformation?!
According to Enterprise Project, "Digital" is not just basically going paperless; or data analytics and artificial intelligence; or even an Agile team, digital transformation is the integration of digital technology into all areas of a business, fundamentally changing how you operate and deliver value to customers. Also, according to The Agile Elephant, "Digital transformation" involves a change in leadership, different thinking, the encouragement of innovation and new business models, incorporating digitization of assets and increased use of technology to improve the experience of your organization's employees, customers, suppliers, partners, and stakeholders."
So what are the advantages of digital transformation to businesses?
Adopting and adapting to digital is no longer an option, it is a must in business today to stay competitive and relevant to the industry. It's crucial for companies to start to progress their transition to digitization. In fact, digital speed is as much as 5 times faster than a traditional business, and that pace is essential to becoming a leader or a fast follower.
1. Transforms Customer Experience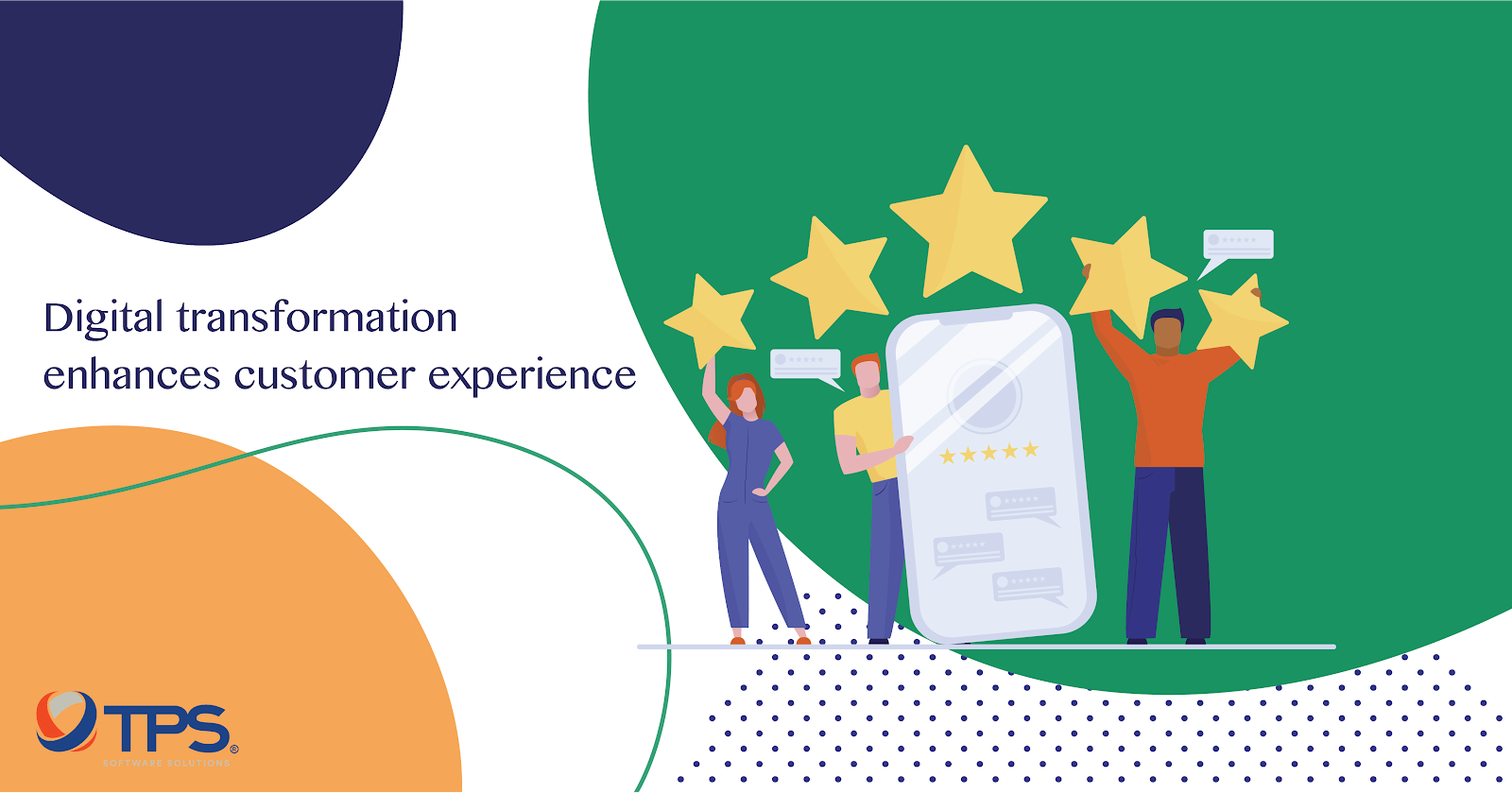 Digital transformation enhances customer experience
The experience of customers is at the heart of digital. As a result, the primary focus of digital transformation is to use cutting-edge technology to improve the customer experience. Many companies recognize this, with 92% of leaders developing mature digital transformation strategies, specifically to enhance the consumer experience. According to McKinsey, the success factors in customer experience in the transformation process are:
Design and digitize customer journeys
Increase speed and agility in insights
Achieve customer adoption of digital customer journeys
Develop agility in delivering journey transformations
Those companies at the forefront of the digital revolution will earn much more authority, trust, and respect from customers.
2. Drives data-based insights
One of the great benefits of going digital is the ability to track metrics and analyze the data that is gained during digital marketing efforts. More to the point, using these insights allows businesses to optimize their strategies and processes for even better results. Using data-driven insights to understand customers and feeds into business strategy enables hyper-personalization, relevancy, real-time feedback, and agility. This involves businesses making use of both structured (personal customer information) and unstructured data (social media metrics) pulling together data from many sides of the business to help drive the transformation journey.
The importance of data in decision-making should not be underestimated. With the right leadership to encourage this attitude throughout an organization, the road to a higher ROI will become much easier.
3. Encourages collaboration across departments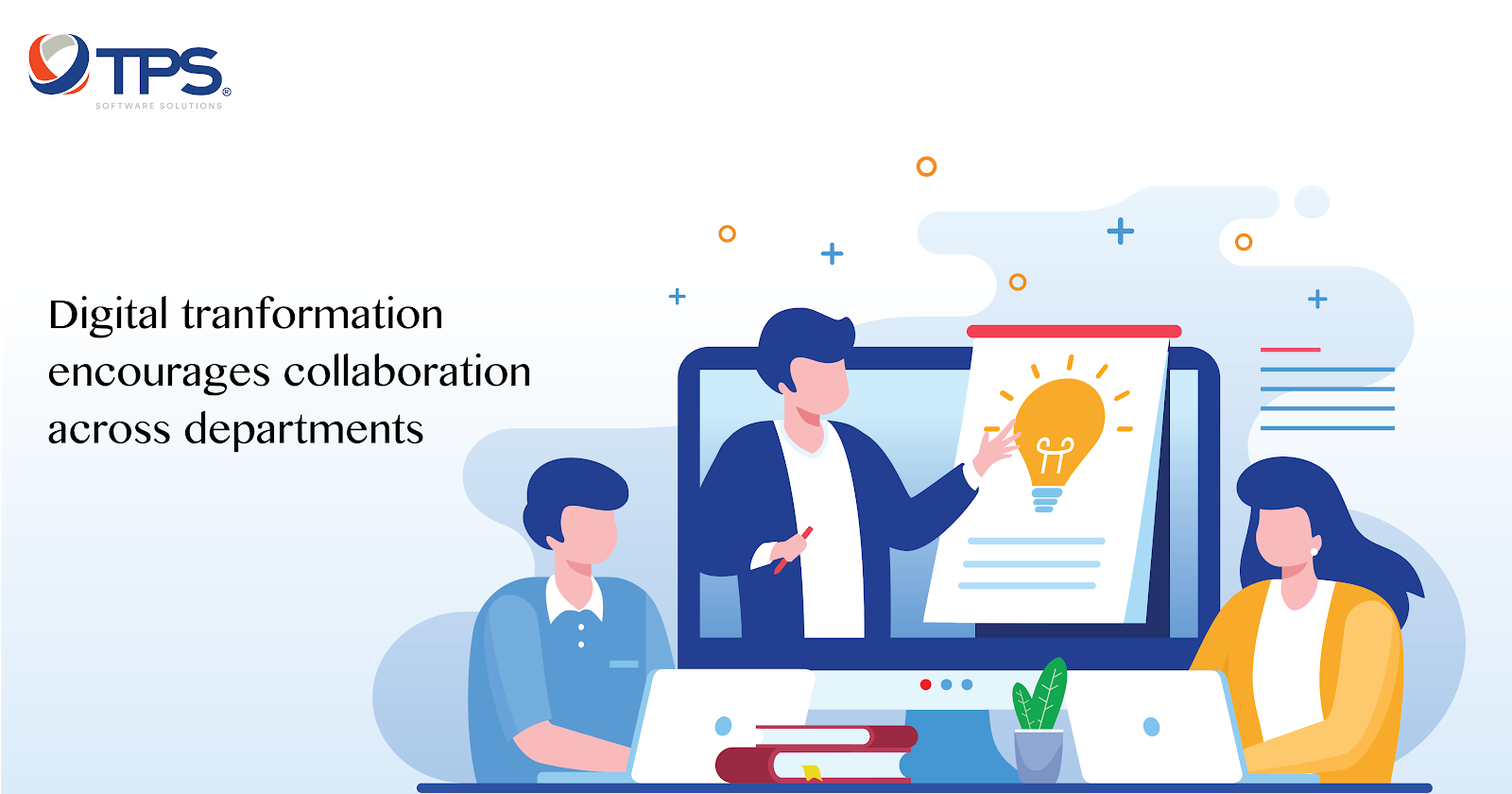 Digital transformation encourages collaboration across departments
The thought of the entire organization making a massive digital transformation can be a daunting prospect for a workforce from leadership to entry-level employees. All processes and strategies, down to the core structure and company culture need to be addressed. However, in that, there is an opportunity for unity throughout the workforce. The foundation for a smooth digital transformation is built upon digital congruence. When all departments are aligned, strong company culture forms, allowing a successful and confident transition.
4. Increases agility and innovation
In business, agility is the ability to continuously improve and develop quickly, especially regarding digital processes. This penchant for innovation is held in high regard across many industries. When it comes to digital transformation initiatives, 68% of companies rank agility among the top three considerations.
The rapid development and perpetual changing of the digital landscape leave no time for companies to rest on their laurels. Even those on top must be ready to adapt and innovate. There will always be a new competition, new tools, and new trends. With that, the customer will demand more, wanting it faster and better than before. Staying ready is crucial.
5. Updates skillsets & knowledge
As new technology continues to go stratospheric, the demand for these specialized skills will grow. To name a few skills that are coming into their own, the future of digital business is looking to be heavily built upon the following skillsets:
Augmented Reality
Growth Hacking
A report by Altimeter concluded that 31% of companies lack digital talent and experience among their workforce and leadership. Inhibited by fear of change, many companies view digital transformation as a huge cost rather than a smart investment.
By braving the challenge to make the change, businesses allow their employees to develop skills for the future, as well as equipping their business with the in-house knowledge to sustain growth and a competitive edge in the digital age.
You may also like: The Top 8 Technology Trends Of The 4th Industrial Revolution
6. Consolidates process and operations
Putting money aside, the greatest universal benefit that technology has given businesses is that it has made it easier to connect with other people. By going digital, companies can bring more than just their workforce together, but also their entire architecture. This includes social media, analytics, and project management interfaces.
This consolidation of the company processes and operations enables the business to connect with their target audience and satisfy their needs.
In conclusion, the future of digital transformation is no longer a dot on the horizon. The pressing need to implement it in the next few years can no longer be ignored – certainly not if the organization has any interest in success or profits. The digital age isn't new, but it is different.
Choosing to remain on the outside was a liberty that many businesses had over the past decade. But time is up. Now, businesses definitely should fully embrace and invest in their digital transformation for their thriving.
TPS Software can assist businesses at the start of digital transformation.
Taking digitization is not easy, it takes time and effort, but if you don't put it into action, evolution would never happen. With years of experience in the technology industry, we are capable of going with you on this journey from the beginning.
Don't hesitate to drop us a message and get a talk on digitization you are interested in for your business.