COVID-19 has triggered digital transformation across industries. In a very short time, we've observed such a quick adoption of virtual applications in the need of remote working since most companies send employees to work from home due to the incredible spread of the pandemic. Face to face interaction in businesses is restricted and replaced by online platforms, as obviously, the lockdown stops businesses from operation. The need of digital transformation has never been so imperative. Apparently, coronavirus is a forceful push for companies to rapidly adopt technology in the industrial 4th revolution.
Since the demand of technology is rocketing, resources in the challenging time are restricted, software outsourcing is such a smart move for business to quickly adapt with the situation and advance the challenge to change the game. Not only large enterprises are leveraged from software outsourcing, SMEs are able to benefit if swiftly acquiring advantages of this model. Here are some reasons:
Digital transformation is imperative to keep companies stay operational
As mentioned above, as the virus has not seemed to be under control, lockdown and social distancing are happening all over the world. If staying in the traditional business model without adopting digitalization, the companies would be left behind due to the downturn of the economy and failure of resource management. We have seen a shift from offline to online operation in most industries. The coronavirus outbreak has promptly spiked the demand for online shopping, digital payments, e-commerce, digital healthcare solutions, and collaborative applications for remote studying and working. According to predictions of economic professionals, the online business is happening during the Covid and would not stop afterward, by virtue of its advantages such as convenience, time-saving, standardization, and so on…,which are changing consumer behaviors
Early embracing digitization leads companies to escalate the business efficiency by boosting productivity, reducing operating cost, enhancing customer experience and facilitating the internal integration. And software outsourcing is an appropriate way for companies to gain digital transformation in the shortest time.
During COVID 19, it is obvious that companies are in need of a flexible workforce
In fact, it has never been seen in the history that teleworking becomes so common. Most companies have to send employees to work from home. Apparently, remote working requires complicated management to secure productivity and efficiency. Therefore, collaborating with a software outsourcing development team in this toughness assists businesses in managing the technical team while keeping expectations on high quality deployment and punctual delivery.
Besides, recruiting a quality team for short term technical projects in this period is arduous and wasting. Instead of spending time and effort to seek for talents, partnering up with an outsourcer allows companies to reach a pool of experienced engineers that can develop and speed up deployment of software projects.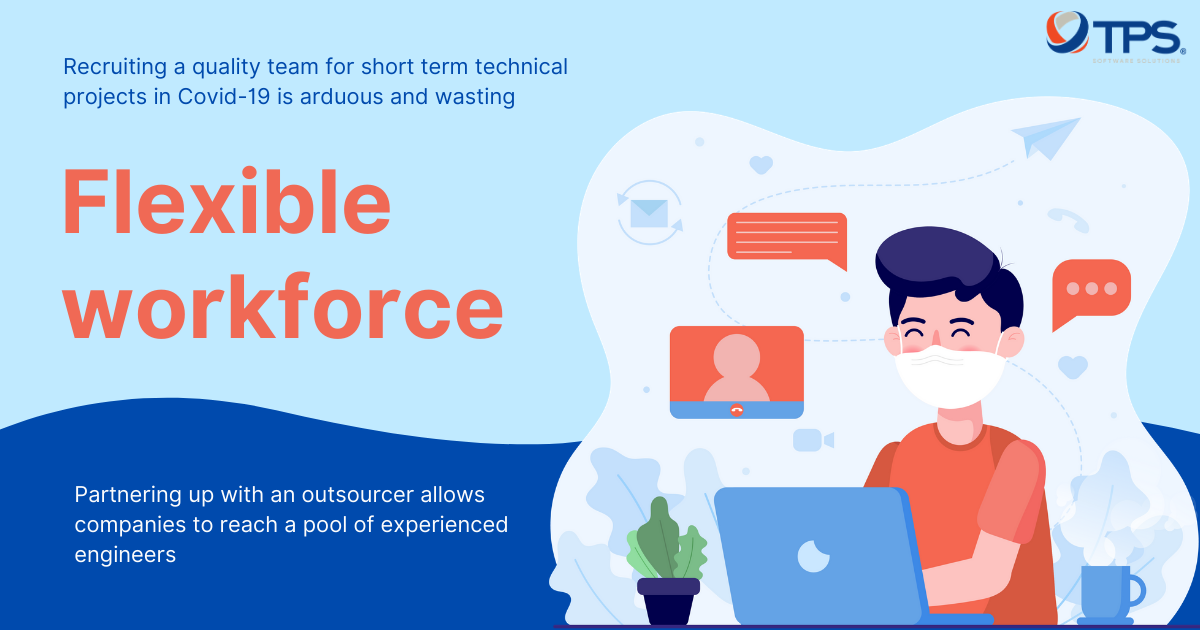 Outsourcing team is a flexible workforce during Covid 19
High demand of digitization in this challenging time enables software outsourcing teams to approach and experiment latest technology
The COVID-19 pandemic has led to proliferation in the adoption of cloud, driven by the need of businesses to support their remote workforce. According to Markets and Markets, a market research company, the global cloud market is expected to grow from $233 billion in 2019 to $295 billion by 2021.The demand for cloud services would further snowball with increased adoption of digital payments, e-commerces during the pandemic.
Moreover, digital healthcare solutions such as telemedicine-enabled home care, after lockdowns had to be imposed to manage the spread of the virus since asymptomatic carriers could be drivers of transmission. As a protective shield for healthcare providers against coronavirus, cloud-based telemedicine software is expected to retain its sheen and relevance in the post-COVID-19 world.
The Software outsourcing team is able to instantly adapt with the latest invention.
Technology is evolving with incredible pace, which challenges companies to swiftly adapt the new invention. Of course, companies are able to develop themselves, but the development requires huge effort. Still, the hardship during Covid crisis has led companies to multiple obstacles, which requires leaders to stay focused on business solutions to maintain and develop the company. Partnering up with a software outsourcing team enables companies to accelerate innovation while avoid paying too much attention to technology. Moreover, the perception around software outsourcing companies would change from just 'developers on hire' to 'strategic partners' that can help grow business and enhance the brand reputation, especially with experienced tech hubs like Vietnam.
Software Outsourcing is cost saving for companies in challenging time
In fact, the average hourly rate for hiring a senior software developer in the US is $100 – $170, a developer with similar experience and technical skills can be hired for $40 in Asia. Offshore software development rates in Asia's tech hubs like Vietnam are even lower than the average price point offered by the IT vendors in Eastern Europe.
Moreover, outsourcing allows companies to cut other fees of the employee management process like recruitment, insurance, and bonus. Outsourcing is a go-to solution when it comes to cost reduction, it still remains to be the reason during this distressing time.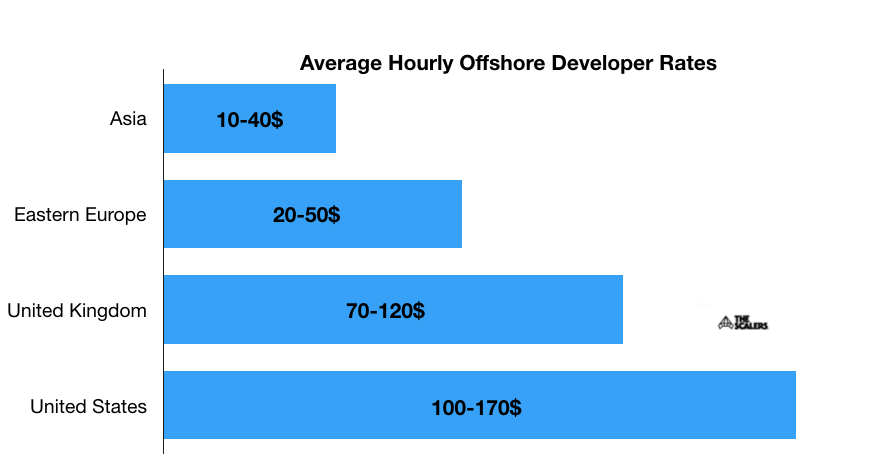 Source: The Scalers
How TPS can assist businesses in digital transformation as a trusted software outsourcing partner in this difficult time of Covid-19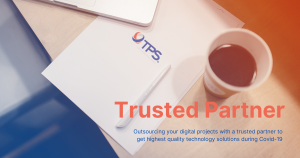 Trusted partner in software development during Covid-19
TPS is located in Vietnam, the country that has recently been renowned for its excellence in fighting against Coronavirus. Also, recently, Vietnam has gotten to the top 5 in A.T. Kearney Outsourcing Location Report 2019, which acclaims the competencies of the country in this industry and leads Vietnam to various opportunities for diverse projects of software development.
Being led by a top management team with 20 year experience in this industry and owning an in-house R&D team allow TPS Software to provide most appropriate solutions to its partners with well concern of the latest technology in the market.
During the quarantine in March and April, the team was able to handle the workload to secure thoroughly on-time delivery and good quality product. Getting to the second phase of fighting against Coronavirus, TPS has gotten a strategic preparation to manage the productivity and efficiency to keep the continuity of the operation.
Trust is our first priority, have your digital project outsourced with TPS, we commit to stand with your business through this hardship with the highest quality technology solution.