In order to effectively serve your company's needs, it is wise to invest in custom software development. It provides a special opportunity to be creative and distinctive, making your company's brand stand out from the crowd. To realize this, TPS Software Corporation is a place to go
The company has the goal to provide clients with a scalable architecture, effective time and resource management, tangible design, and a finished product that meets or exceeds their expectations at a reasonable price.
Why TPS Software Corporation for custom software outsourcing ?
The company has many major clients around the world such as EC-Cube, Toshiba, Codestream, Lockton, Orchard Credit, etc.. TPS Software has earned respect by helping clients connect with and delight their consumers via innovative, cross-platform software and application development. Thanks to in-depth understanding of application and software development, as well as our professional technical experience, they are able to create and build high-quality, unique software and integrated IT solutions that meet the specific requirements of each individual client.
In addition, TPS Software has developed themselves as one of the leading custom software outsourcing companies in Vietnam, not only providing products but also giving clients valuable consulting to improve every aspect. They have earned some prestigious prizes and awards like Sao Khue Award (2021&2022), and also achieved CMMI Level 3, ISO/IEC 27001:2013, etc..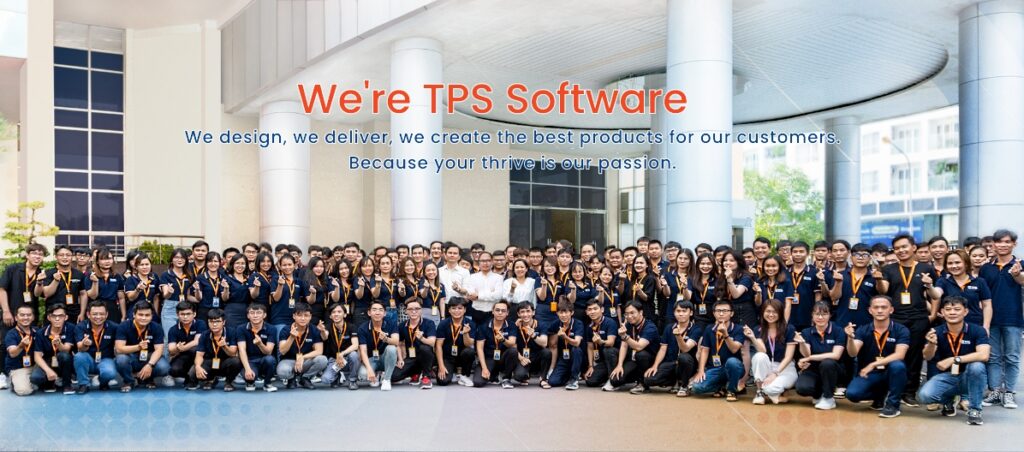 What type of custom software TPS can deliver ?
Whether it's about creating digital solutions to problems, building corporate systems and designing websites, providing technical insights or supplying business intelligence. We are specialized in serving end-to-end tailor-made software and integrated IT solutions, addressing the exact business needs of our customers, allowing them to focus on reaching their business objectives.
Custom Mobile App Development
With a team to develop innovative mobile apps that drive business and satisfy customers. It makes no difference if you're a brand new company or a well-established one. Their app developers can help you bring your mobile concept to life, whether you want Android or iOS app development services, wish to include augmented reality, or require app development solutions for the Internet of Things.
Custom Web App Development
Our work is designing, developing, and providing support for web-based software. TPS has established itself as a trustworthy custom web application development company who are capable of handling even the most demanding tasks.
They are experts in developing lightweight, easily maintained, and lightning-fast single-page web applications using frameworks like Angular, Vue.js, React, Node.Js for front-end programming or .Net, PhP, Python for back-end programming
Read related article: TPS's success stories – AWS Cloud Migration Strategy
UI/UX design
These services are up-to-date because they collaborate closely with a specialized group to provide the best possible user experience and user interface (UX/UI) solutions for web, iOS, Android, and cross-platform applications. To create digital solutions that solve user issues, conform to your company's specifications, and set new standards in their field, they engage in extensive user experience research and use a customer-centric design process.
Enterprise software application development
TPS's expert team are able to create custom systems for enterprise such as CRM, BI, etc… with a multidisciplinary approach and streamlined workflow that is convenient in all the right ways. Their product with great features that help the organizational optimize their process, business workflow, higher scalability and higher efficiency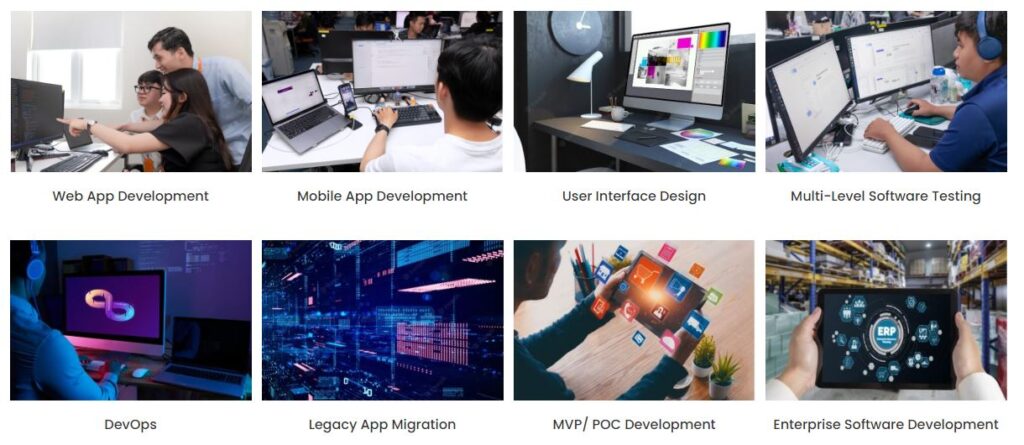 Industries that TPS has experience and success
Every company has its own set of challenges that must be addressed. TPS provides a full-featured application for your company's needs. Developed via years of experience in fields as varied as healthcare, online retail and distribution, finance, insurance, the hospitality industry, media production, building and real estate, transportation, education, and software development among others. TPS Software Solution is pleased to showcase certain products that have helped clients expand their businesses.
In closing, we hope you found this article helpful and have a chance to know about one of the leading software outsourcing companies in Vietnam. There are others out there so the choice is yours, but pick the right one will need a very careful consideration and selection
Please don't hesitate to contact TPS Software if you're looking for custom software outsourcing services in Vietnam.